Management Support Solutions LLC is a consulting firm with expertise in all facets of Human Resources.
---
Joe Gay
Management Support Solutions, LLC
(314) 409-6883
joe@msshr.com
The primary objective of the company is to help employers in the management of their employees through the use of assessments from our partner, Profiles International. Ultimately, a company's success or failure hinges upon the decisions made about its "employees." The decision making process for success begins with the hiring process and continues through coaching, training and selection for promotions. Information is the key and our assessments open the door.
These tools are ADA and EEOC compliant. They meet all Department of Labor criteria and have documentation regarding their reliability and validity. All assessments are online which enables 24/7 access and immediate results. The assessments are available in multiple languages. The information derived from our assessments supply you with outstanding valid, reliable information in a secure, legal manner. Whether you are hiring, making a change in management, conducting training, or even restructuring, our assessments will give you the answers you need to make the best decisions.
Case Study Book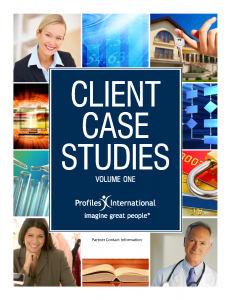 Learn how we help clients succeed.
Download PDF »