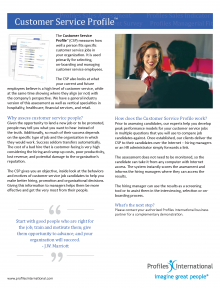 The Customer Service Profile™ (CSP) measures how well a person fits specific customer service jobs in your organization. It is used primarily for selecting, on-boarding and managing customer service employees.
The CSP also looks at what your current and future employees believe is a high level of customer service, while at the same time showing where they align (or not) with the company's perspective. We have a general industry version of this assessment as well as vertical specialties in hospitality, healthcare, financial services, and retail.
Why assess customer service people?
Given the opportunity to land a new job or to be promoted, people may tell you what you want to hear instead of the truth. Additionally, so much of their success depends on the specific type of job and the organization in which they would work. Success seldom transfers automatically. The cost of a bad hire that is customer-facing is very high considering the hiring and ramp-up costs, poor productivity, lost revenue,
Next Steps