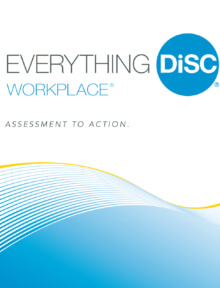 Everything DiSC® profiles use a research-validated learning model to create a highly personalized learner
experience.
Each profile is topic-specific, with in-depth information, including tips, strategies, and action plans to help learners become more effective.
---
---
THE PROFILES
Everything DiSC Work of Leaders®
The Work of Leaders made simple: Vision, Alignment, and Execution. Based on best practices, Work of Leaders connects to real-world demands, generating powerful conversations that provide a clear path for action.
Everything DiSC Workplace®
Can be used with everyone in an organization, regardless of title or role, to build more effective relationships, and improve the quality of the workplace.
Everything DiSC Management®
Teaches managers how to bring out the best in each employee. They learn how to read employee styles and adapt their own styles to manage more effectively.
Everything DiSC Sales®
Helps salespeople connect better with their customers by understanding their DiSC sales style, understanding their customers' buying styles, and adapting their sales style to meet their customers' buying styles.
---